Backflow Prevention
Rainbow Mechanical Back-Flow Prevention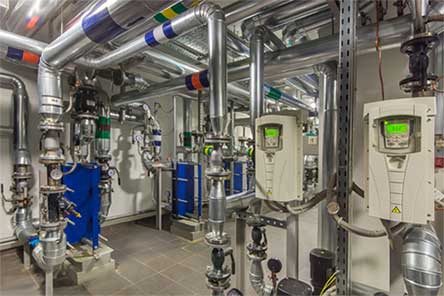 Many municipalities, including the City of Toronto, require commercial buildings to have an effective back-flow prevention system installed. The system must suit the size and scope of the building's infrastructure, and must be tied into the main water service.
The "reverse flow" of dirty drainage water through a clean water line is considered back-flow. Back-flow water is dirty, potentially contaminated, and typically containing various hazardous materials. Back-flow issues can often pose serious health hazards.
Most commercial back-flow problems will occur at a plumbing cross-connection. The idea behind a back-flow prevention device is to prevent dirty drainage water from flowing back into a clean water line. The device should be professionally installed to suit.
Most municipal city codes require the installation of a back-flow prevention mechanism at every cross-connection point in a plumbing system. Rainbow Mechanical provides complete back-flow prevention services – right from testing, to installation, to repairs.
Back-flow prevention services from Rainbow Mechanical Services
At Rainbow Mechanical, our in-house licensed technicians can manage any type of back-flow issue in a commercial building. We can install any of the back-flow devices prescribed by a local municipality. In addition, we can provide annual device testing (also required).
Our trained technicians can also advise on the required back-flow device for your building. Needless to say, a building that handles a large volume of hazardous materials will require a more protective back-flow system than perhaps a typical commercial offices building.
Rainbow Mechanical also offers back-flow maintenance service as well as back-flow testing services. When a back-flow prevention system is properly maintained, contaminated water cannot enter into the main water system. Here, regular testing ensures performance.
Back-flow prevention requires compliance with local by-laws and provincial codes. Your devices must be tested after any installation, any repair, any relocation, or any replacement. In most cases, devices must be professionally tested annually, and proper action taken.
Testing, installation, and repairs from Rainbow Mechanical services
Back-flow prevention services must be provided by a qualified specialist. In terms of testing, Rainbow Mechanical can test your system and provide a follow-up report. When repair or replacement is required, we provide end-to-end service to ensure compliance.
• free cost estimate
• test scheduling
• installing test tags
• report submission
• test documentation
If your building requires upgrading to the back-flow prevention system, we will expertly install the devices that best suit your building's needs. We inspect the system; determine the device options that are best suited; and attend to drawings, permits, or documents.
In the event that your building has received a warning notice of a backflow issue, the team at Rainbow Mechanical can provide a professional consultation and a recommendation of how to proceed most effectively. The important thing is to do it right from the beginning.
Rainbow Mechanical services a wide range of mechanical systems – from commercial HVAC, to plumbing and drainage, to water treatment. For a FREE consult, contact one of our specialists at 905-761-9101. Find out more about our professional services by visiting our website at www.rainbowmechanical.com .