Plumbing
Commercial and Institutional Plumbing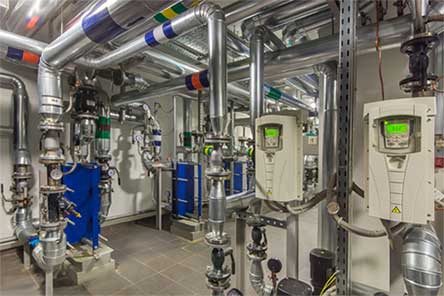 Commercial and institutional plumbing is much different than residential plumbing. Repairs and maintenance are more complex – special equipment is often required – plumbers must be trained and licensed – and special permits might be required.
At Rainbow Mechanical, our commercial plumbing services allow you to stay well ahead of potential problems, and avoid the high cost of major repairs. Our plumbers are specially trained and able to handle the most complex plumbing problems.
Because commercial facilities are subject to such stringent industry regulations, the team at Rainbow Mechanical can provide the professional services required to maintain optimum standards, while circumventing bigger problems from developing.
Plumbing problems can quickly compromise profitability – not to mention posing a health hazard. The key, of course, is prevention, and appropriate maintenance will surely ensure maximum performance, with much less potential for breakdowns.
Whatever your commercial business, plumbing problems can result in lost productivity and lost revenue. With Rainbow Mechanical, you can rest assured that plumbing and drainage is in good working order, and that expert service is a phone call away.
Our customers demand responsive service, quality workmanship, and competitive pricing – and that's exactly what we deliver throughout the GTA region. We service a broad range of commercial and institutional properties, including older buildings and heritage properties.
• offices and commercial buildings
• schools, colleges, and universities
• retail stores and shopping centres
• health facilities and local hospitals
• retirement/assisted living centres
Preventive maintenance ensures worry-free operation
Routine plumbing maintenance allows for worry-free operation, regardless of business size. With plumbing and drainage, a preventive approach will avert potential problems, thus avoiding anything serious from developing without notice.
Preventive maintenance also addresses general wear and tear – allowing for repairs to be made well in advance of any serious breakdowns. With Rainbow Mechanical, scheduled maintenance means not having to worry about shutdowns.
Overall, the benefits of a maintenance program make the cost well worthwhile. Business downtime is practically eliminated. The high cost of unexpected repairs is diminished. And the life span of systems/equipment is measurably increased.
Rainbow Mechanical offers customers 24/7 service
At Rainbow Mechanical, we understand that businesses can't afford downtime in the event of a plumbing problem. Because we offer 24/7 services, our customers are always assured of immediate plumbing repairs and/or service maintenance. We always have someone to answer your service call and to dispatch the right mechanical technician. It makes for a worry-free experience, whether it's an emergency situation or simply an issue that's urgent.
For Rainbow Mechanical, it's never a "one-size-fits-all" approach. We know that every commercial property has specific needs, so we customize our service to suit the need. For building owners and property managers, we make every effort to provide commercial and institutional plumbing that satisfies the customer's needs. From Sarnia to Ottawa, our customers rely on us for the highest standard of workmanship in the plumbing industry.
Contact us for a FREE consultation at 905-761-9101, or find out more about our wide range of services by visiting our company website.