Water Treatment
Rainbow Mechanical Services Water Management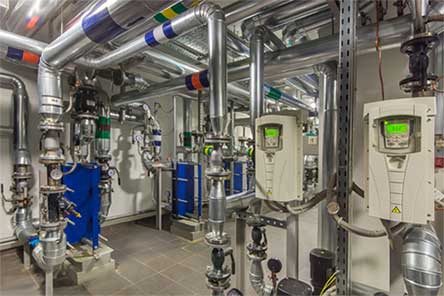 Rainbow Mechanical provides complete water management services for commercial and industrial customers throughout southern Ontario. Our in-house professionals identify your specific needs, determine your water management goals, and offer a solution-oriented plan for implementation. The result: optimized operations – improved work environment – and measurable cost savings. Whatever the size of your operation, proper water management planning has far reaching benefits. Indeed, the upfront cost makes the benefits worthwhile.
• your facility operates much more efficiently
• employee safety and wellbeing is improved
• water and energy consumption is reduced
• thousands of dollars can be saved annually
Boiler Water Treatment from Rainbow Mechanical
Proper boiler water treatment is essential for every boiler system, regardless of application. At Rainbow Mechanical, our team works alongside your team to ensure optimal equipment performance, while reducing any potential for downtime. Most importantly, our mechanical experts will recommend viable improvements that will create substantial annual savings. Here again, the investment in proactive boiler water treatment provides important benefits. With energy consumption, water consumption, and chemical consumption significantly diminished, your boiler system operates at much greater efficiency with fewer shutdowns.
HVAC Water Treatment from Rainbow Mechanical
HVAC systems in commercial and industrial operations are very demanding. These systems must meet the challenging requirements of heating, cooling and ventilation on a daily basis, season after season. Most critically, these systems cannot experience even the shortest of mechanical breakdowns.
For HVAC systems that utilize water, additional attention must be focused on preventing corrosion, scale build-up, or any type of biological growth. At Rainbow Mechanical, our specialized HVAC water treatment services are designed to deliver optimal performance, while extending lifespan.
A preventative approach makes for worry-free operations
Whatever comprises your mechanical system, a preventative approach to maintenance allows for worry-free operations. When mechanical issues are diagnosed early, solutions can be implemented immediately, and costly breakdowns can be virtually eliminated.
A preventative approach also addresses regular wear and tear of equipment. It allows for essential repairs to be made in advance, while ensuring optimal performance year round. For businesses large or small, this is the best way to experience a worry-free operation.
With 24/7 services, downtime is practically eliminated
Because we offer 24/7 mechanical services, our customers are assured of maintenance and/or repairs immediately. In fact, when you work with Rainbow Mechanical, there's always a live person to answer your service call, and then dispatch service.
At Rainbow Mechanical, our technical depth allows us to customize our services to suit your needs. We service property managers and building owners from Sarnia to Ottawa, with a made-to-measure approach that addresses even the most unique requisites.
Working with the professionals at Rainbow Mechanical
When you contract Rainbow Mechanical, you can be sure that our technicians are licensed and approved by local municipalities. Our equipment is always well maintained, and our technicians are well trained – it's particularly important in getting approved for permits.
Whatever your mechanical needs, Rainbow Mechanical can meet the challenge. We do it right – without taking shortcuts – and always according to regulations. You can find out more about our range of services by calling 905-761-9101 or visit our company website.