Preventative Maintenance
Preventive HVAC maintenance makes for worry-free conditions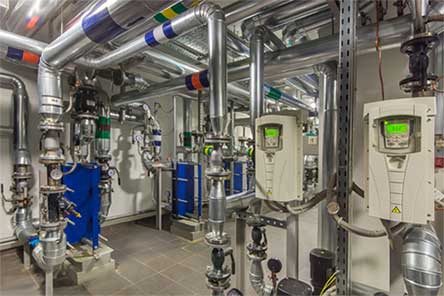 Today, many industrial facility managers still believe that "if it's not broken – there's no need to fix it". It's short-term thinking, and doesn't make good business sense. Preventative maintenance (sometimes referred to as proactive maintenance) is the key to performance and productivity. It's also the way to prevent mechanical failures and avoid interruptions.
The fact is, mechanical breakdowns DO happen – but a preventative approach to repairs and maintenance will serve to avoid potential problems, while keeping operational costs in check. Bottom line, regular preventative maintenance will assure peak performance for all mechanical equipment and ensure safe working conditions for facility staff and workers.
At Rainbow Mechanical, our preventative maintenance approach has proven itself to be cost saving both in the short term and the long term. While our scheduled maintenance services may cause temporary operational interruption, this is a small price to pay in avoiding more serious production breakdowns and equally serious production downtime (both costly).
By any measure, the benefits of preventative maintenance make for a worthy investment.
• potential mechanical problems are "nipped in the bud"
• mechanical issues are addressed before causing harm
• scheduled maintenance assures optimal performance
• proactive repairs safeguard the lifespan of equipment
• a preventative approach averts any emergency repairs
Preventative maintenance allows for worry-free day-to-day operation
Whether you have a complex plumbing system, or massive HVAC equipment, preventative maintenance will allow your business to operate worry-free. Simply put, mechanical issues are identified early, and solutions can be expedited immediately. The aim is to avoid serious problems from developing, along with the substantial costs of repairs and/or replacement.
A preventative approach to mechanical systems also addresses the general wear and tear of equipment. This is the best way to avoid major shutdowns, while undertaking necessary repairs well in advance. With Rainbow Mechanical, a scheduled maintenance program will ensure worry-free day-to-day operation throughout the year (and optimal performance).
With Rainbow Mechanical, customers can benefit from 24/7 services
As industry professionals, we appreciate that your business cannot afford any downtime – whatever the mechanical problem. Because we offer comprehensive 24/7 mechanical services, our customers can rest assured that repairs or service are immediate. In fact, at rainbow Mechanical, there's always someone to answer your call and dispatch service.
We don't believe in a "cookie-cutter" approach when it comes to service and maintenance. That's why we customize our service capabilities to suit your specific needs. For property managers and building owners, we customize our approach in order to address unique pre-requisites. We service customers throughout southern Ontario – from Sarnia to Ottawa.
Explore the wide range of services provided by Rainbow Mechanical
From a business perspective, the benefits of a preventative maintenance program make for a worthwhile dollar investment. A proactive approach is simply the key to annual savings.
• production downtime is virtually eliminated
• the high cost of unforeseen repairs is averted
• equipment lifespan is increased measurably
• proactive maintenance ensures performance
• preventative maintenance averts emergencies
Find out more about Rainbow Mechanical by contacting us at 905-761-9101 and requesting a FREE consultation (or check out our range of services by visiting our company website).