HVAC
Comprehensive commercial HVAC services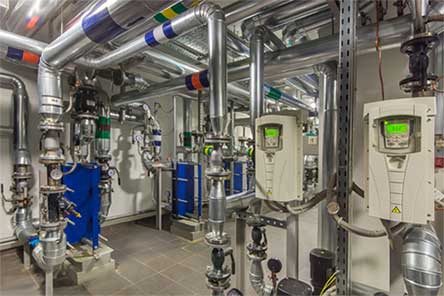 Rainbow Mechanical Services provides a full range of commercial HVAC services for customers throughout southern Ontario (from Sarnia to Ottawa). From preventative maintenance, to scheduled service, to 24/7 emergency response, the professionals at Rainbow do it all. We have dozens of service vehicles on the road, and can manage even the most complex heating, ventilation, and air conditioning systems.
At Rainbow, we specialize in commercial offices, institutional, industrial, and multi-unit residential buildings. We have in-depth technical expertise and an ongoing commitment to great customer service. Indeed, our focus on quality workmanship has kept our commercial customers fully satisfied. The key, of course, is our assurance of 24/7 emergency services – and client peace of mind.
With Rainbow Mechanical, 24/7 services means no downtime
With commercial HVAC systems, even a simple breakdown or equipment failure can seriously compromise productivity (and affect the bottom line). We understand that our customers can't afford costly downtimes, which is why our 24/7 service response is so valuable. We guarantee immediate repairs and/or maintenance for any HVAC problem.
When you work with Rainbow Mechanical, there's always someone at our end to answer your service call. With HVAC failures, whether it's summer or winter, one of our expert technicians will show up immediately to provide the necessary repairs or service. More importantly, our capacity for 24/7 response time allows for a worry-free experience.
For commercial HVAC services – count on Rainbow Mechanical
Optimal HVAC performance is essential for any business operation – but it's never one-size-fits-all. With Rainbow Mechanical, commercial HVAC maintenance is customized to suit the needs of building owners, property managers, and mechanical supervisors. Throughout southern Ontario, from Sarnia to Ottawa, our customers rely on our comprehensive maintenance services for peace-of-mind from one season to the next.
In addition to our specialty HVAC services, we have the technical depth and expertise to service a wide range of mechanical systems – from plumbing and drainage systems; to backflow prevention; to water treatment solutions. For a FREE consultation, based on your specific needs, contact one of our mechanical specialists at 905-761-9101. To find out more about our company, visit our website at www.rainbowmechanical.com